For this commission it was decided to adopt a theme, which would be complementary to the venue in which it would be exhibited. Following discussions with the County Librarian, it was decided that the subject matter would be drawn from prominent themes in the world of Irish Literature and that the focus would be on Ulster writing from earlier times to the present. The tapestry is sub-divided into ten panels each of which is related to a major period in Irish Literary history. Literary sources are given in brackets.
Panel 1 The Children of Lir (From 'Children of Lir – Anon) Top Left
Panel 2 Colmcille sails to Iona (From 'Bard of the Gael & Gall' - G. Sigerson ed)
Panel 3 Motifs in early Christian art from Carndonagh (St. Patrick' Breastplate)
Panel 4 The medieval story of an Irish monk called Ronan (Suibhne 'Mad Sweeney' - S. Meaney)
Panel 5 The Four Masters (From – The Annals of The Four Masters)
Panel 6 The Great Celtic Revival ('The Wild Swans of Coole - W.B Yeats)
Panel 7 The Irish Diaspora ('Philadelphia Here I come – Brian Friel')
Panel 8 The Modern Irish Landscape ('Bogland – Seamus Heaney')
Panel 9 20th Century (Observe the Sons of Ulster Marching Towards the Somme – Frank McGuinness)
Panel 10 Earagail (At Caiseal na Gcorr St (Poem) – Cathal O Searcaigh)
The quotations surrounding each panel span the world of Irish Literature from the early sagas to the present day. The dividing panels contain an array of minor motifs, which depict images of human forms, birds, fish etc. drawn from Irish iconography.
Tapestry Wall Hangings, 1995
The Tapestry Wall Hangings marked the opening of Central Library, Letterkenny, Co. Donegal. It consists of 2 panels – total size 13ft by 4ft, made from woven tapestry and is located at the stairwell in the Central Library, Letterkenny, Co. Donegal.
The making of the tapestry: The original design was an acrylic painting, which acted as a guide for the weaving of the tapestry. Donegal yarns were hand-dyed and each individual strand was woven into the tapestry by hand. This piece of work was created over a period of eighteen months.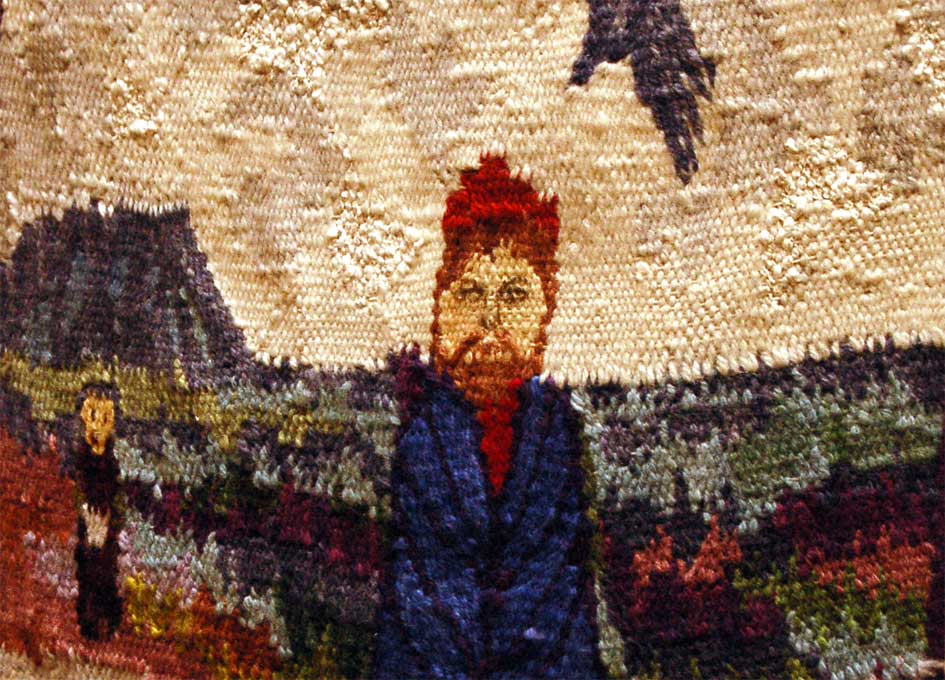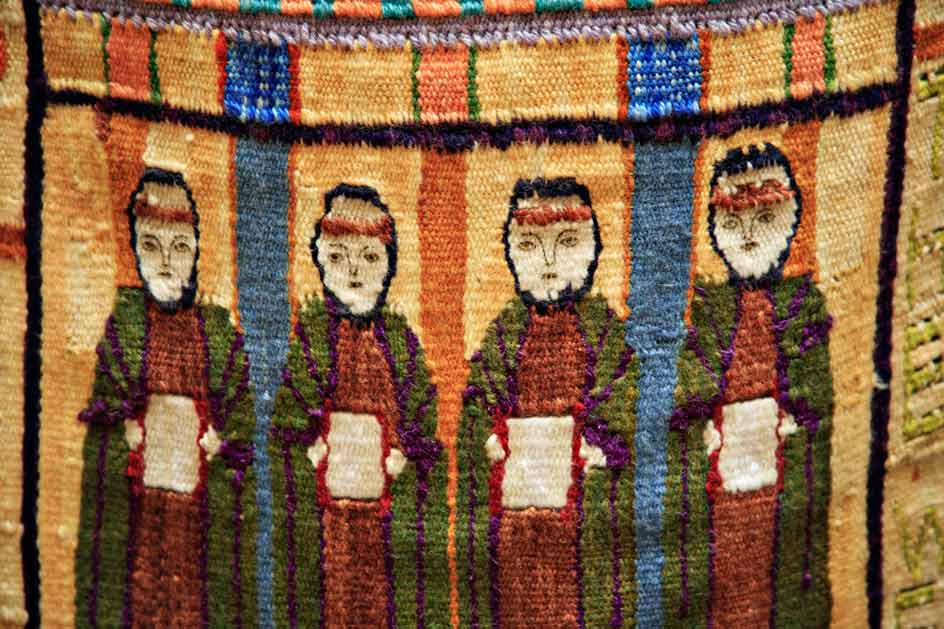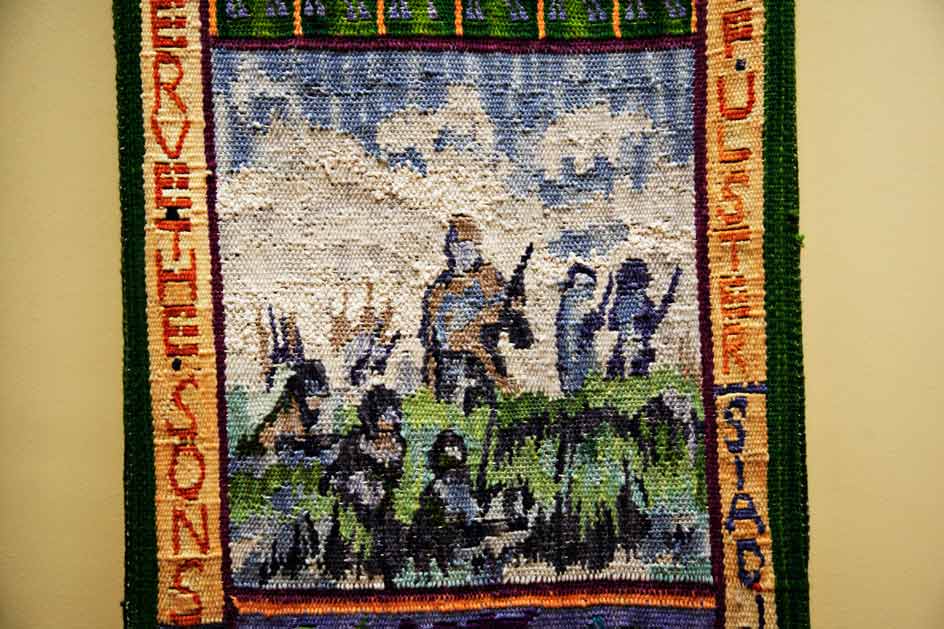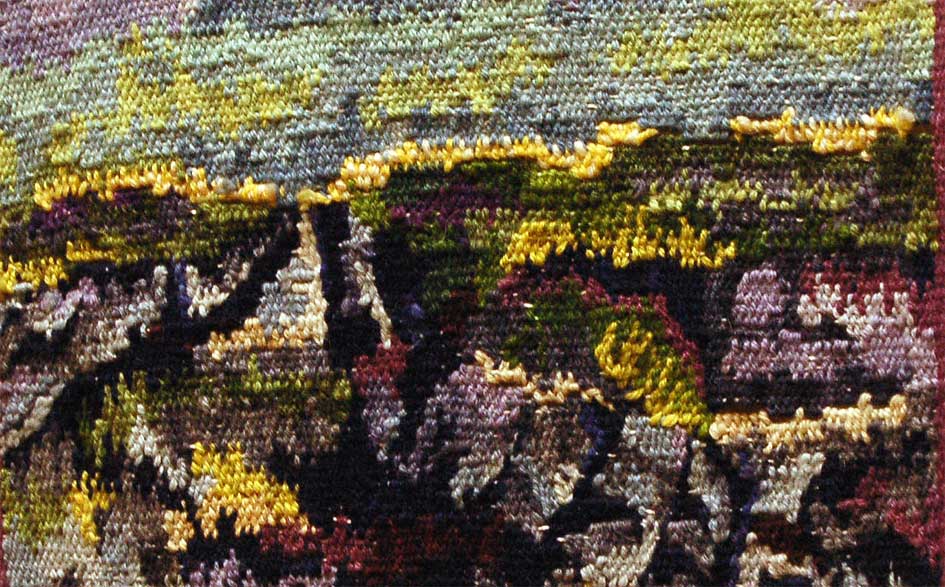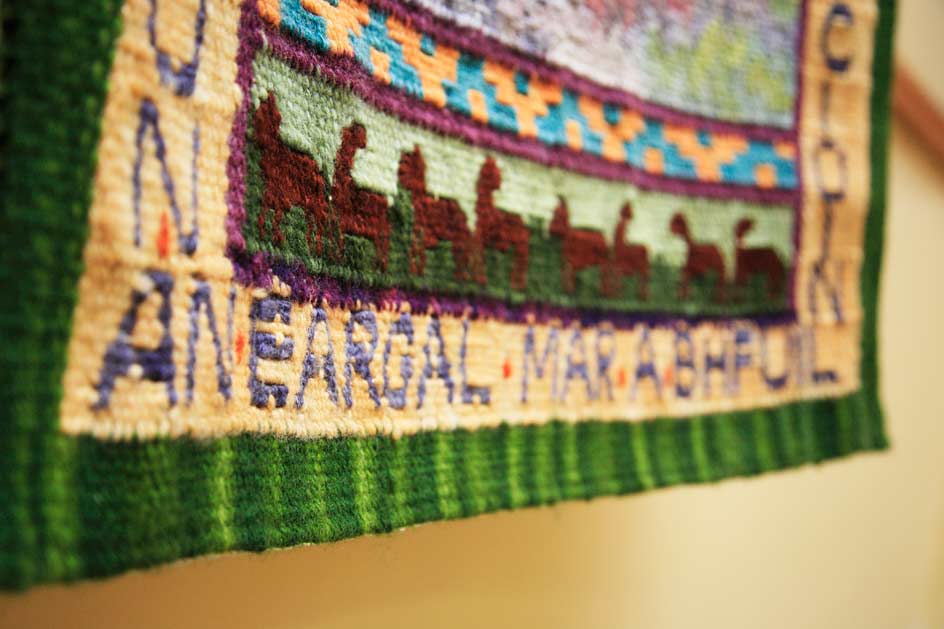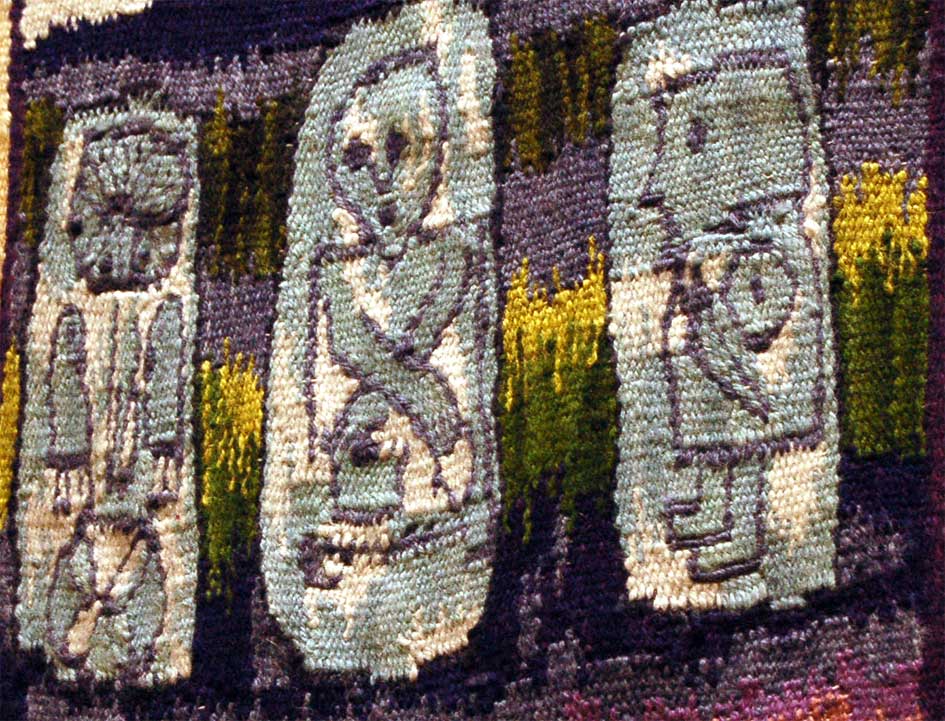 Biography of artist
Rosemary McCarrow

Rosemary Mc Carrow, who is a native of Donegal studied Fine Art at Letterkenny Regional Technical College and National College of Art and Design Dublin. She finished her training with a Postgraduate from the Crawford College of Art in Cork. Since then she has been lecturing in Fine Art and Textile Design in the North West Institute in Derry.
During this period Mc Carrow has been involved as a community artist in cross border projects through the Arts Council of Northern Ireland. Mc Carrow has exhibited in Donegal, Dublin, Belfast and New York and was also part of national touring exhibition of woven tapestry. Since finishing lecturing, Mc Carrow has been concentrating on her painting and weaving and now works on private commissions. Mc Carrow can be contacted on 074 9551039.