To mark the fame of Rory Gallagher, the dedication of his international fans, and the success of the Ballyshannon Rory Gallagher Festival, Donegal County Council Public Office, in association with the Rory Gallagher Festival, have commissioned this statue of Rory Gallagher, for The Diamond in Ballyshannon.
Rory Gallagher Statue, 2010
Commissioned utilising the Per Cent for Art Scheme arising from the Ballyshannon Water Supply Scheme. Cast and bronze and stands at over seven feet tall. Located at The Diamond, Ballyshannon.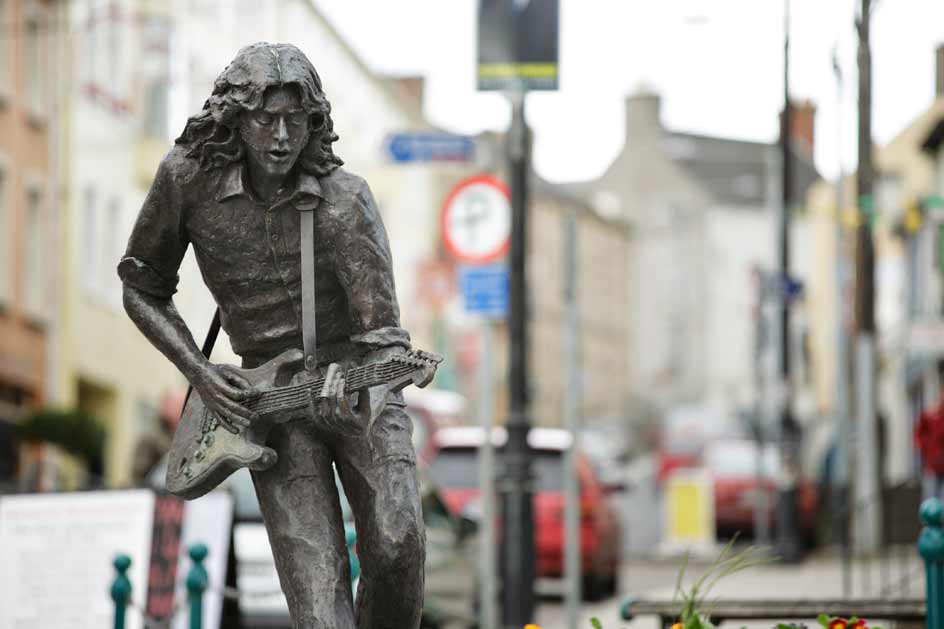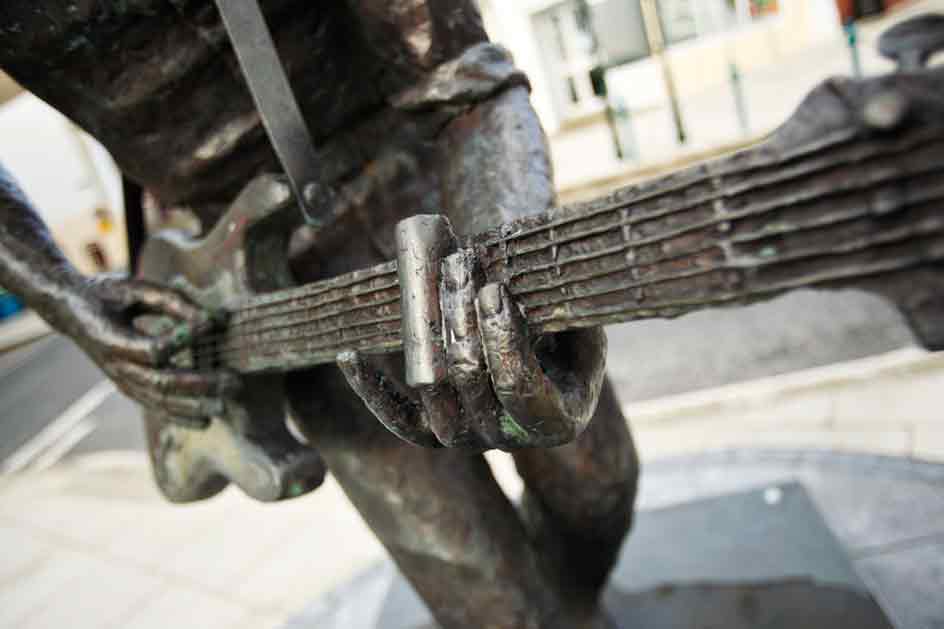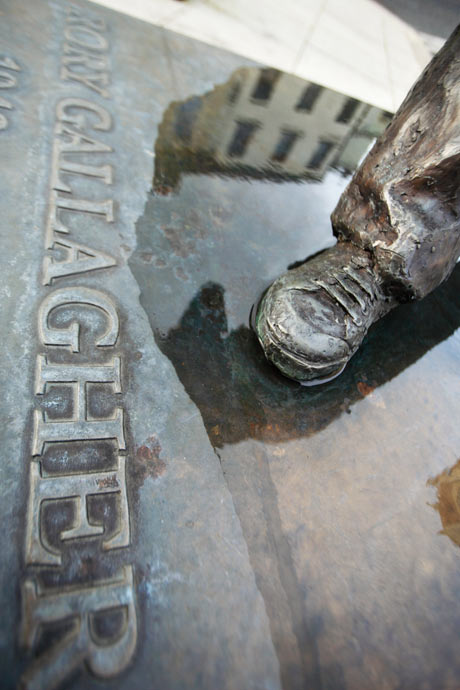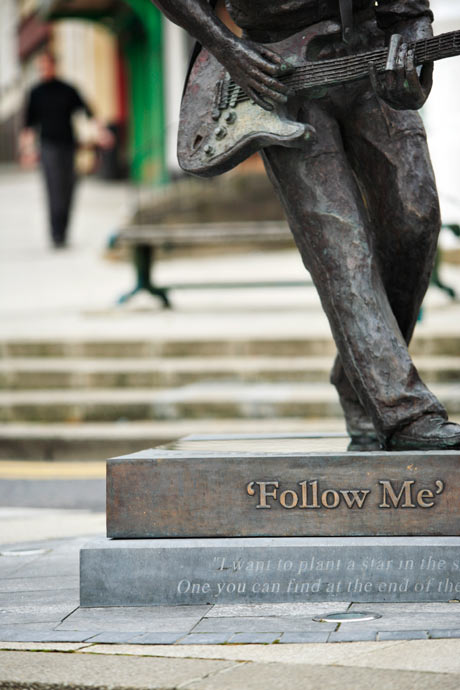 Words from the artist
David Annand

My approach to commissions is evolutionary, I go armed with an open mind and no preconceived ideas so that I can create a sculpture that will fulfill the aspirations of the client base and design team or the local community wherever they are. My work has reached the stage, where the experience of large public art projects, the accumulated skills and the understanding of the potential of materials have created a strong database of practical and eminently realisable ideas.
Many sculptures I have a made are not just about 'creating a sense of place', they have become the place , that is street furniture and art, they are structures that people can walk into and use. Thus a relationship establishes itself through familiarity, there occurs a subliminal bond. The relationship moves from the practical to the aesthetic by quiet engagement not confrontation.
Many of my sculptures have poems commissioned and engraved on them and the poem helps engage the public and makes them take time with the piece. ('Still' being the best example)
Over the last few years I have had experience working with the public or groups in various projects in Ireland and the UK. In Belfast I worked with the staff at the Marie Curie Centre to make the piece 'Still' in collaboration with Seamus Heaney. This led to me working with the local community in Bellaghy to make 'the Turfman', which illustrates Heaney's poem 'Digging' and is made of local turfs fabricated into a figure and cast in bronze.
Most recently I was shortlisted for a major commission in Enfield and this meant that we had to canvas the opinion of local people around a major roundabout and try to design a sculpture that would present a gateway to Enfield. This involved going into schools and working on a display caravan giving presentations to passersby and formulating a questionnaire to gauge opinion.
I have a back up team consisting of two companies. Powderhall Bronze Ltd. in Edinburgh is the most experienced bronze foundry in Scotland and I have worked with them since 1988 and also with CAM Welding & Fabrications in Fife who are specialists in stainless steel. Both are expert in handling large pieces with sensitivity and pride. My working relationship with them has an empathy that has blossomed over the years of experience.
Taken from http://www.davidannand.com