HEART Project, Matrimony Tree
by CODSTEAKS
Local folklore indicates that when a couple were engaged to be married two different varieties of tree would have been planted next to one another. At the time of the wedding these would have been grafted together, and left to grow from thereon as one. The two trees would have retained their unique characteristics, but formed a distinctive shape with the grafted section – like a bridge. Ancient examples of these Matrimony Trees can be found in the grounds of Summerhill House on the outskirts of Ballybofey. The twin towns of Ballybofey and Stranorlar are two very distinct towns, joined by a bridge, and share a great historic friendship. The Matrimony Tree is an uplifting and positive symbol that epitomises Ballybofey and Stranorlar's bond of unity, while celebrating their uniqueness.
The artwork takes the form of a real Matrimony Tree, but has been abstracted to give a unique ident for the town. Embedded into the 'bark' are foundry cast handprints, taken from local schoolchildren in Ballybofey. Each of the five National schools took part, with a print
taken from the oldest and youngest pupils at Sessiaghoneill, Dooish, St Mary's, Robertson and Glencovitt. The impression of local people has most definitely been made on the artwork, and it is hoped this will encourage pride and ownership of the piece.
HEART Project, Matrimony Tree, 2008
Commissioned under the HEART project and supported by Donegal County Council Public Art Program under the Per Cent for Art Scheme. The Matrimonial Tree stands at nearly 5m tall, and from tip to tip is almost 4.5m wide. Constructed entirely from sheet metal, every inch of the tree has been hammered, rolled and formed into shape by hand, using traditional techniques. The internal ribbed skeleton is reinforced to ensure that it is completely robust. The Matrimony Tree is located naed the bridge in Ballybofey.
Click to download the HEART PROJECT brochure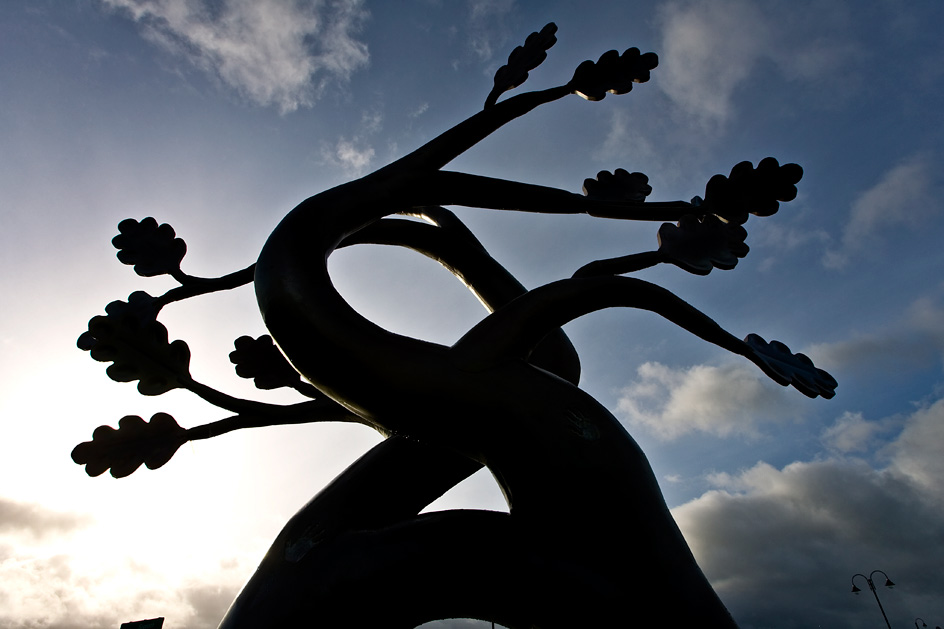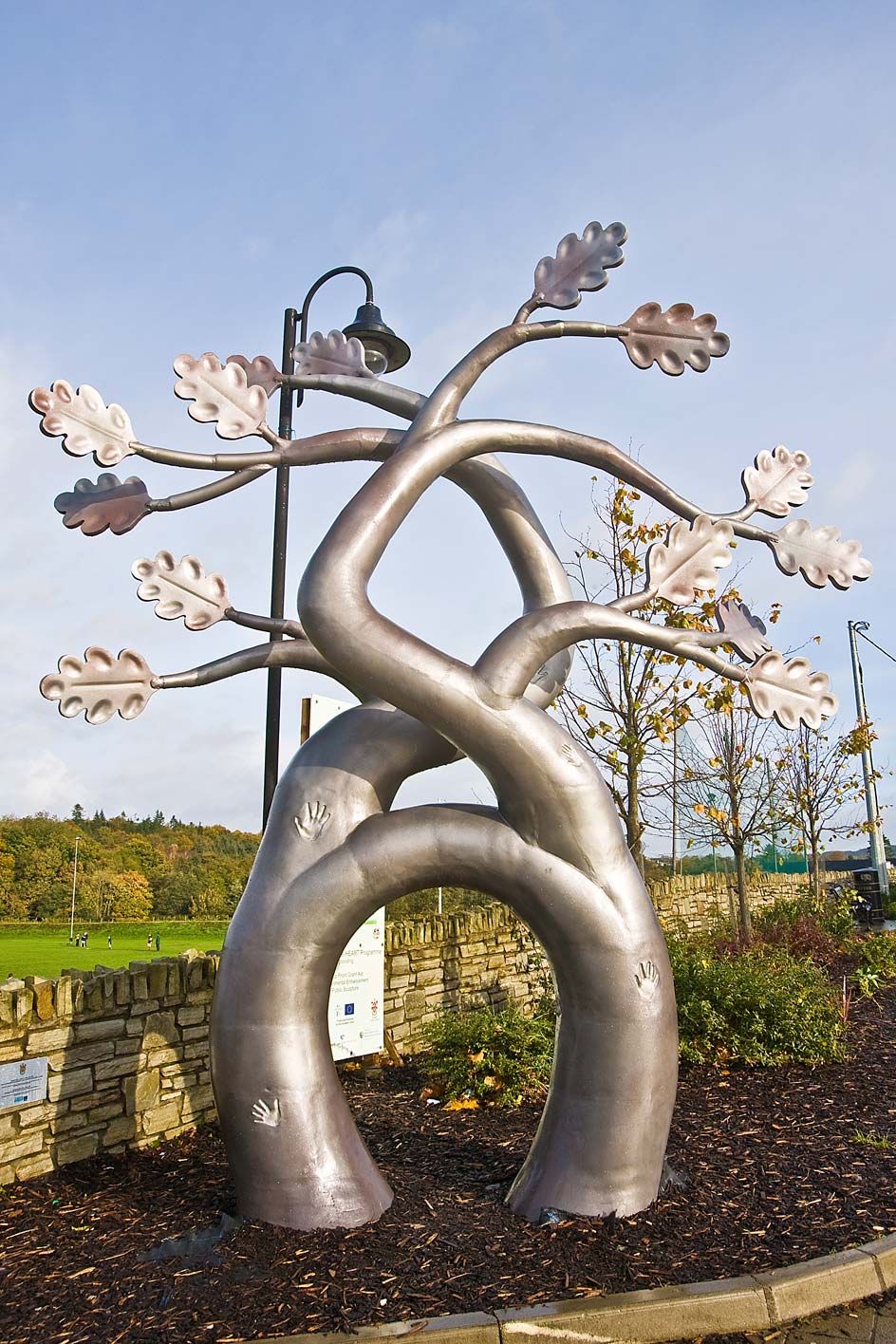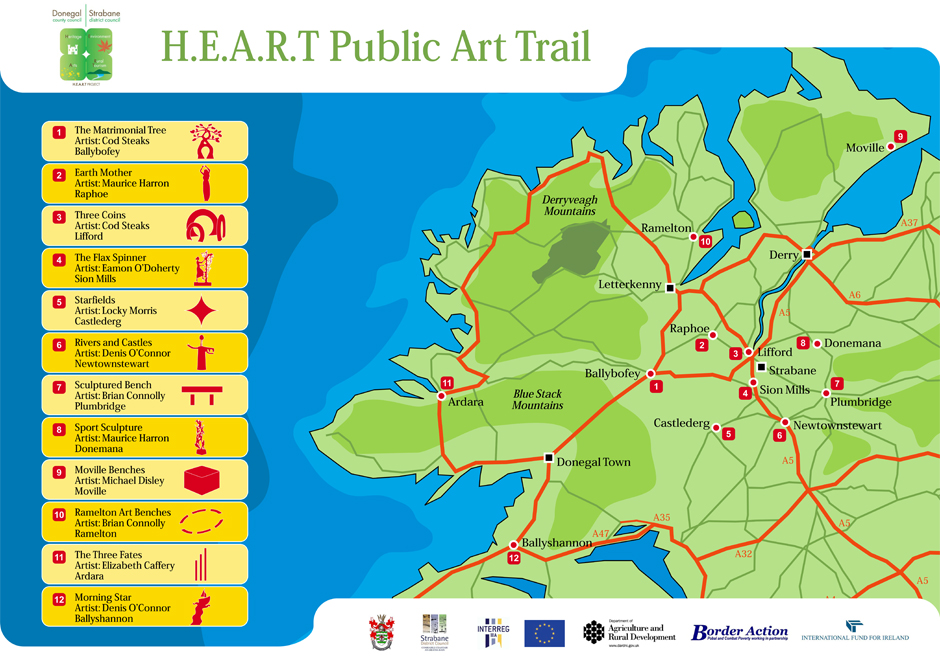 Biography of artist
Cod Steaks


Cod Steaks ltd was founded in 1980 by Susannah Lipscombe and started out as a small model making company in the centre of the city of Bristol, UK. Over the following decades it evolved, moving further into the film industry, building full sets, props, costumes and miniatures for feature films, commercials and music videos.
The company moved to a larger location in 2004 allowing it to take on larger projects. Cod Steaks incorporated new technology to help produce sets and exhibitions very efficiently making its work output faster.
On October the 10th 2005, A fire raged through one of the Aardman Animations storage warehouses, destroying many of the sets and props built for Aardman by Cod Steaks.
Cod Steaks expanded into the toy design industry in 2010, with the development of Armouron, roleplay toy with interchangeable armour elements. The concept won an award at the 2010 Toy Fair and is being marketed by Bandai.
Cod Steaks gets involved with a range of community work alongside with large public art projects, intent on improving the local surroundings and bringing communities together.