Per cent for Art. Open 2 Stage Competition. Eight Panels on each side fixed to a supporting wall of reinforced concrete and set in gravel next to car parking area. The font design and digital map work is by the renowned Carton Le Vert Design of Rathmullen, Michael McGroarty Stonemasons of Mountcharles sandblasted and installed the work. The panels are 184cm x 100cm.in size, total Size 369cm x 400cm, made from Mountcharles Granite. Located at White Goat Island Amenity Area, Bearnasmore Gap.
Side 1: Sandblasted relief map including placenames, roads, rivers, lakes and islands.
Side 2: A sandblasted copy of the text of John O' Donovan's letter, October 8th 1835.
The Map Wall, 2001
Bearnasmore Gap is in the heart of Donegal, it is one of the most important and familiar stretches of road in the county. It is a vital transportation and communications link for locals and visitors alike. The County of Donegal has an identity, which is based on its Irish language, culture and location. In 1828, the Ordnance Survey of Ireland began the first ever survey of the entire country and during the orthographic (placenames) survey of Donegal in autumn of 1893; the renowned John O' Donovan walked the county from Inisowen at the northern tip to the county to Donegal Town. Consulting native Irish speakers and the Annals of the Four Masters, he gave us all the current spellings of placenames in the county. During his three-month survey of Donegal Placenames, he wrote regularly to Ordnance Headquarters. These letters are rich in descriptions of the life and topography of the country before the famine. His letter concerning Bearnsmore Gap, written in October 1835 is reproduced on the wall.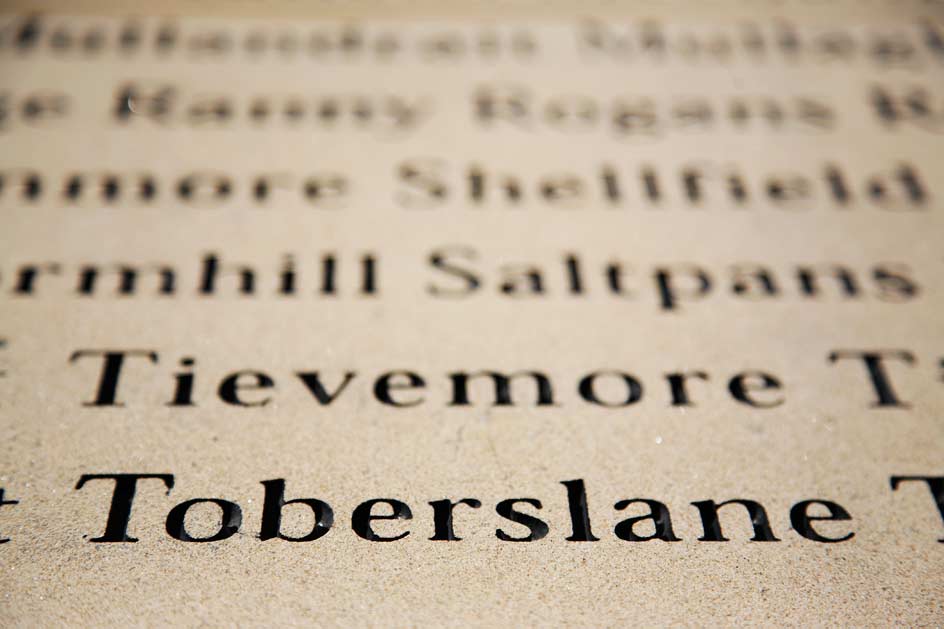 Biography of artist
Mark Joyce

Biography of Mark Joyce for Map Wall Mark Joyce studied painting in National College of Art and Design, Dublin and at the Royal College of Art, London. He was awarded the Guinness PeatAviation Emerging Irish Artists Award in 1990 and was recently awarded a Project Bursary from the Arts Council of Ireland to pursue research on the experience of colour.
He will be artist in residence at the Albers Foundation in Bethany, New York in 2007. He has had Solo Exhibitions in Ireland, UK and the USA. His work is in the Public Collections of Irish Museum of Modern Art, the Arts Council, and the Office of Public Works