6 tiled panels detailing the lifecycle of the salmon through its various stages from smolt to spawning. Each panel consists of a series of interlocking tile which are hand carved and glazed in blues and greens. The substructure is concrete and stone with carved handmade tiles attached on top.
Lifecycle of the salmon, 1995
Arts Council Artist in the Community funded project carried out with FAS workers from Buncrana UDC. The Lifecycle of the salmon is a Circular seat 6 inches diameter, is Handmade Ceramic Tiles and is located in Swan Park, Buncrana. (This Public Art piece has been temporarily removed for repair).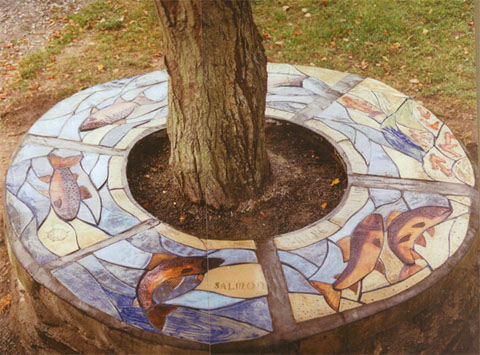 Biography of artist
Aileen Barr


Donegal born artist, Aileen Barr studied Craft Design at the National College of Art and Design, Dublin, specializing in Ceramics. A founder member of Artlink, Buncrana she worked there from 1992-2002, helping to develop visual arts programmes for schools and community groups around the NorthWest. Barr also lead a number of community based Public Art projects in Donegal through Artist in Residence in Schools projects and Artist in the Community projects funded by the Arts Council. In 2002, she moved to San Francisco and has continued her work in public art and art education.
As a teaching artist she developed a pilot programme at the Oakland Museum of California in Art and Literacy with immigrant families and continues to teach there. She also works for the San Francisco Arts Education Project, teaching at a number of Elementary schools throughout the year. In 2003 Barr was commissioned by the San Francisco Arts Commission to design a public art project for a community centre in the West Portal area of the city. In the summer of 2005, she completed her second public art work, the Tiled Step project at 16th Avenue, also in San Francisco (www.tiledsteps.org). This was a collaborative project with US artist Colette Crutcher and was commissioned by the local community.