Garrai na cnamh, 1995
Per Cent for Art derived from the construction of the Central Library and Arts Centre, Letterkenny, Co. Donegal 1995. The poem is located in the Central Library, Donegal Studies Research Area, Level 2, Letterkenny, Co. Donegal.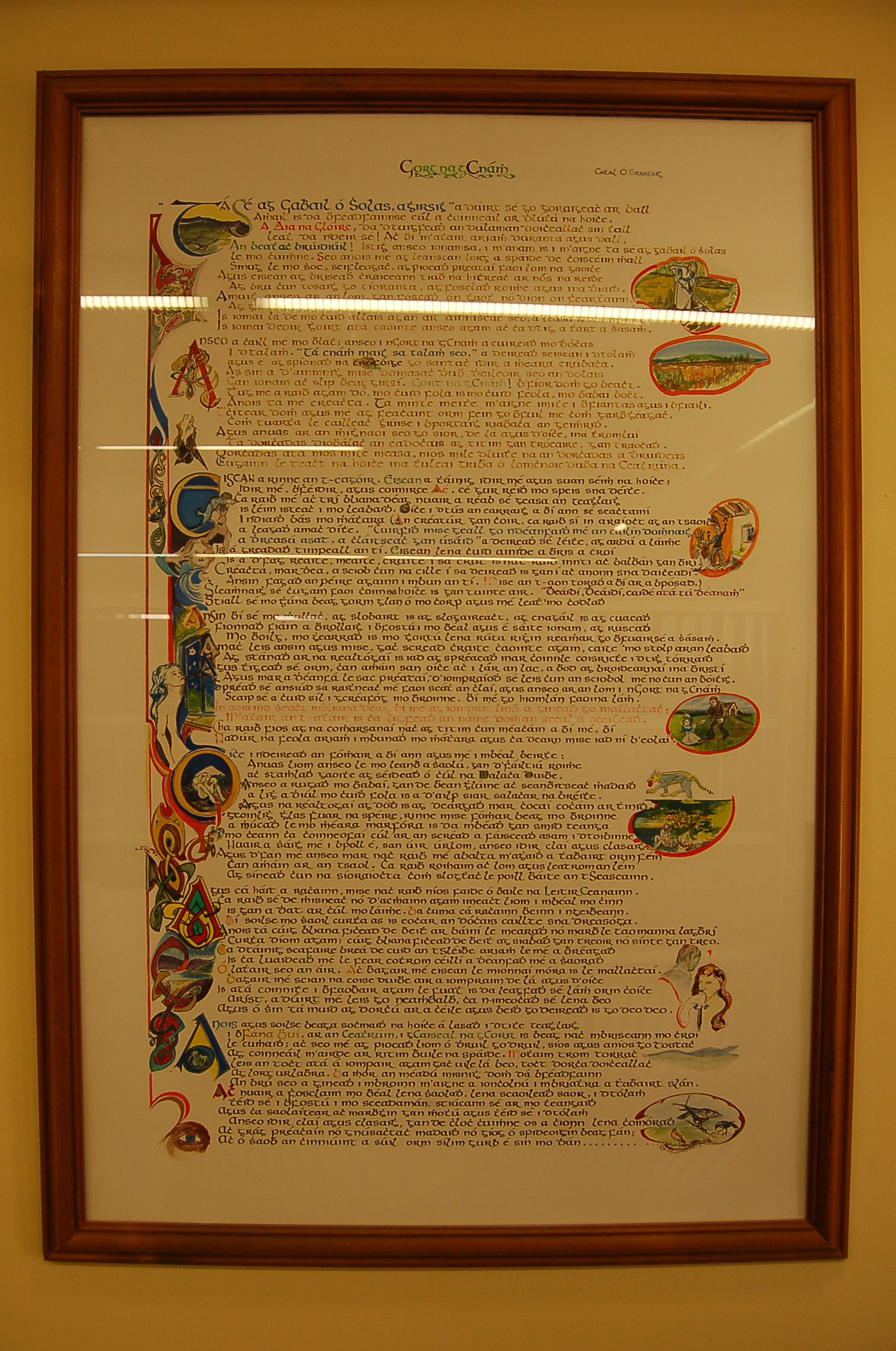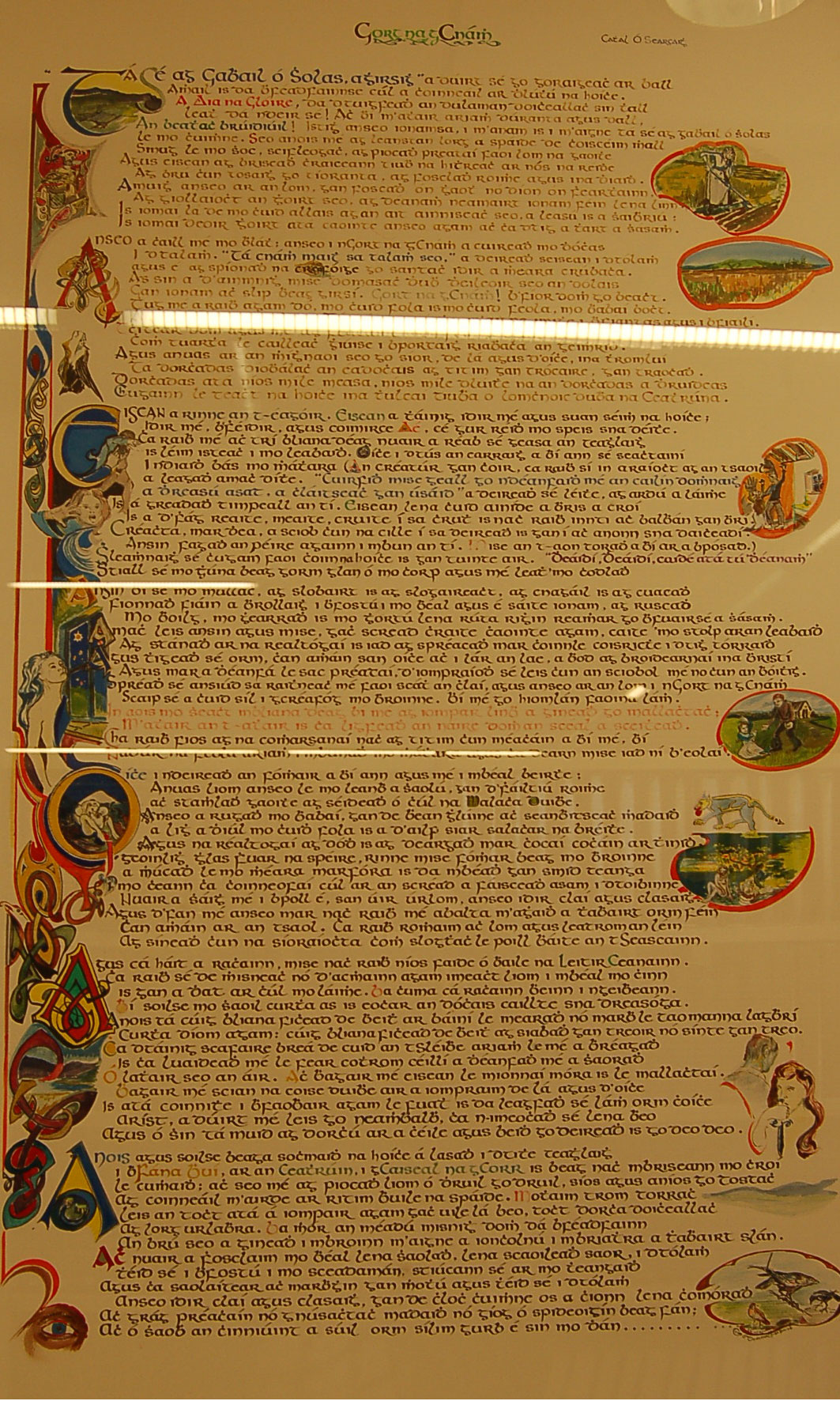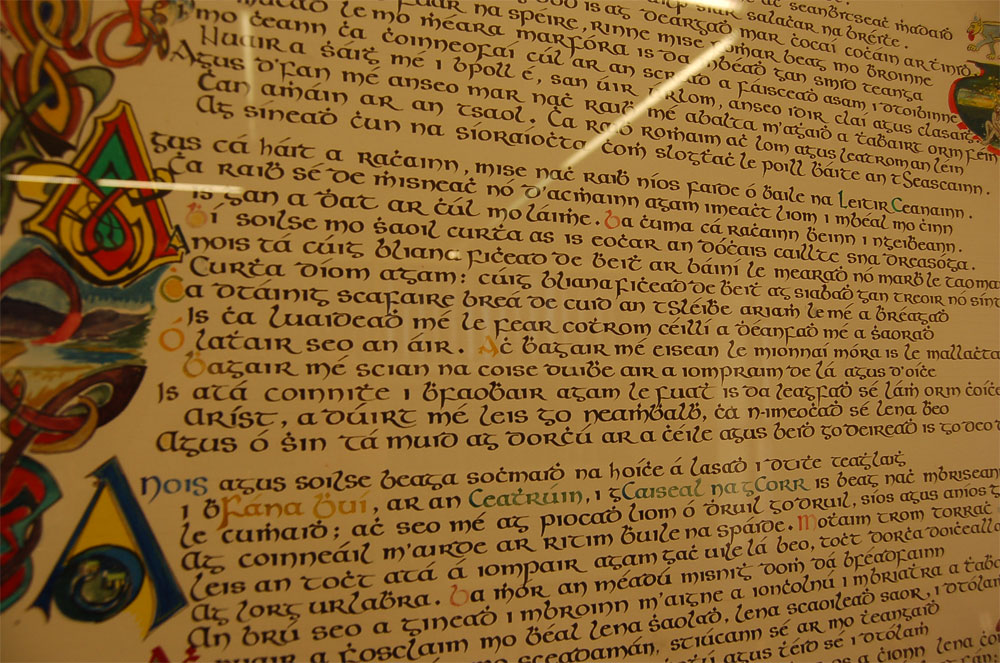 Biography of artist
Cathal O' Searcaigh

Cathal Ó Searcaigh has, over the past decade, emerged as one of Ireland's most distinguished modern day poets. "His confident internationalism" according to Theo Dorgan, writing in Irish Poetry Since Kavanagh, (Four Courts Press 1996), "has already begun to channel new modes, new possibilities, into the writing of Irish language poetry in our time." Ó Searcaigh is fast becoming a poet of international renown - particularly since the publication of his bilingual collections Homecoming/An Bealach 'na Bhaile (Cló Iar-Chonnachta 1993) and Out in the Open (CIC 1997). Selections of his work have already been published in translation to ten languages. His latest collection, Ag Tnúth leis an tSolas was awarded the Irish Times Literature Prize for Irish Language Books in 2001.
In the past few years Cathal has read his work at Arts Festivals and literary celebrations in Belgium, Italy, France, Germany, Spain, Wales, Scotland, England and Canada. His readings and his talks at the L'Imaginaire Irlandais festival in France and at the Frankfurt Book Fair in Germany gained him international acclaim. He has held various posts as Writer in Residence in universities throughout Ireland - North and South - since 1993. In the spring of 1995, he was elected a member of Aosdána. His collection Na Buachaillí Bána (CIC 1996) has received more media coverage than any other volume of verse published in the Irish language in recent years."The best poems in the collection," according to The Irish Times, "are exceptional and single Cathal Ó Searcaigh out, not so much as a maker of poems - of which the Irish language has its fair share - but as one of our finest working poets. This is not meant as faint praise but as a statement of fact."
Ó Searcaigh's harrowing long poem Gort na gCnámh/Field of Bones has been made into a highly acclaimed film by Carol Moore. Cathal is a regular contributor to radio and television programmes. His works include a documentary on the Frankfurt Book Fair for RTÉ, a programme on Nepal for TG4 and RTÉ, a documentary on the 18th century poets of South East Ulster for Flying Fox Films and a half-hour interview about his spiritual beliefs for Flying Fox. In 2002 CIC published Caiseal na gCorr - a book of photographs of the area where Cathal is from. The photographs are by a Dutch photogra- pher, Jan Voster, and the book includes interviews and poetry with Cathal, who discusses his memories of the area and the influence that it had on his poetry. A travel diary entitled Seal i Neipeal was published in 2004.
He was conferred with an Honororary Degree from NUIG in 2000. Publications to date
Poetry
Miontragéid Cathrach (Cló Uí Chuirreáin 1975)
Tuirlingt (Clódhanna 1978)
Súile Shuibhne (Coiscéim 1987)
An Bealach 'na Bhaile (CIC 1991)
Homecoming/An Bealach 'na Bhaile (CIC 1993 . 2, 1995, 1997)
Na Buachaillí Bána (CIC 1996)
Out in the Open (CIC 1997)
Ag Tnúth leis an tSolas (CIC 2000)

History
Tulach Beag Laoich: Inné agus Inniu/Tulach Begley: Past and Present An Chéad Chló (CIC 1997)
Editor
An Chéad Chló (CIC 1997)
Other
Caiseal na gCorr (CIC 2002)
Travel
Seal i Neipeal (CIC 2004)
What the critics had to say...
Ó Searcaigh is an outstanding poet - playful, open, ebullient, unafraid of the colours of language, shockingly honest and raw when necessary and a tender, gifted love poet. He is one of our most inventive poets in either language, with a body of work which has transfixed the landscape of his native Donegal.
- Dermot Bolger, The Tribune Magazine
well-wrought turns.
- Alan Titley, Books Ireland
While Irish books remain half-hidden in shop corners, marginalised just like the gay section, writers like Cathal Ó Searcaigh must continue to be a storehouse of knowledge, and to carry a vocally Irish, vocally gay culture into the future.
- Hayley Fox-Roberts, Gay Community News
Ó Searcaigh's presence is conspicuous on the poetic ground carved out for themselves by today's poets. His poetry speaks out to us with the voice of a real person who hides nothing and wears no false or protective face
- Fear Dorcha Ó Duibheagáin, Borderlines
There is a quality in some writers that is beyond artifice. Ó'Searcaigh's poetry has this stamp of genuineness beyond any Irish, gifted and gay.
- Djinn Gallagher, The Tribune magazine
In Cathal Ó Searcaigh's loveliest poems there rings out most spontaneously a note that is innocent and vulnerable.
- Michael Longley, Poetry Ireland
It is as the proudly self-conscious heir of both the authority of the Gaelic poet and the rooted integrity of individuals . . . that ÓSearcaigh adopts his increasingly prominent public persona as the contemporary voice of an unbroken tradition.
- Philip O'Leary, Irish Literary Supplement
There is a section of landscape in Donegal in the north of Ireland near Falcarragh, overlooking Tory Island, which has been utterly transformed over the past decade by Cathal ÓSearcaigh
- Colm Tóibín, Times Literary Supplement