Commissioned utilising the Per Cent for Art Scheme arising from the N15 Ballyshannon Bundoran By Pass Scheme. Cast and welded bronze reinforced with stainless steel, Located at Rathmor, the highest point overlooking Ballyshannon and Bundoran on the N15 Ballyshannon Bundoran bypass. Size: 2.9m H 3m L 1.3m W.
Between the known and Unknown, 2006
In selecting both the site and the windswept Hawthorn Tree, we hope to reactivate the public's interest in the traditions associated with the Hawthorn and it's association with the Rath structures.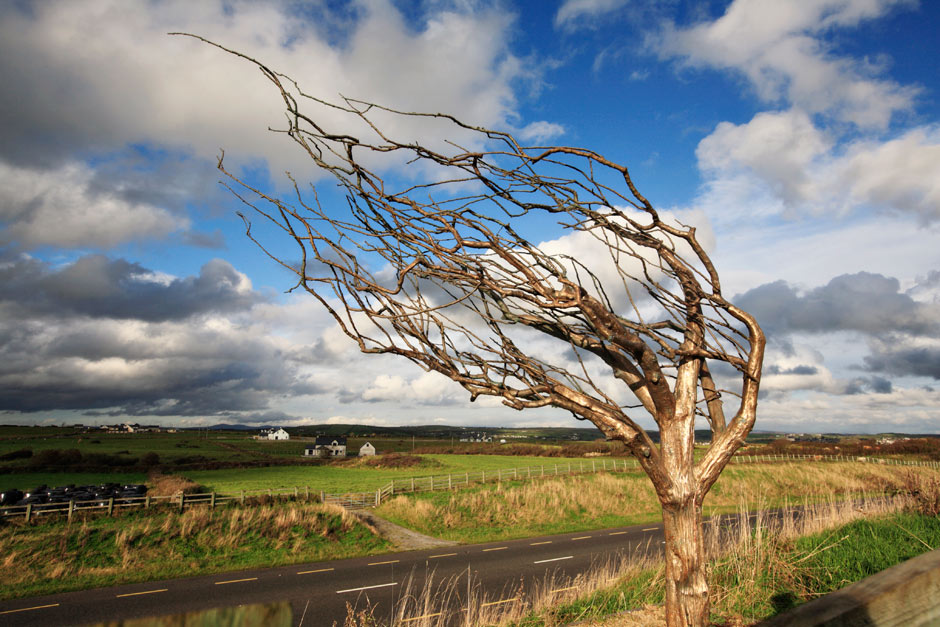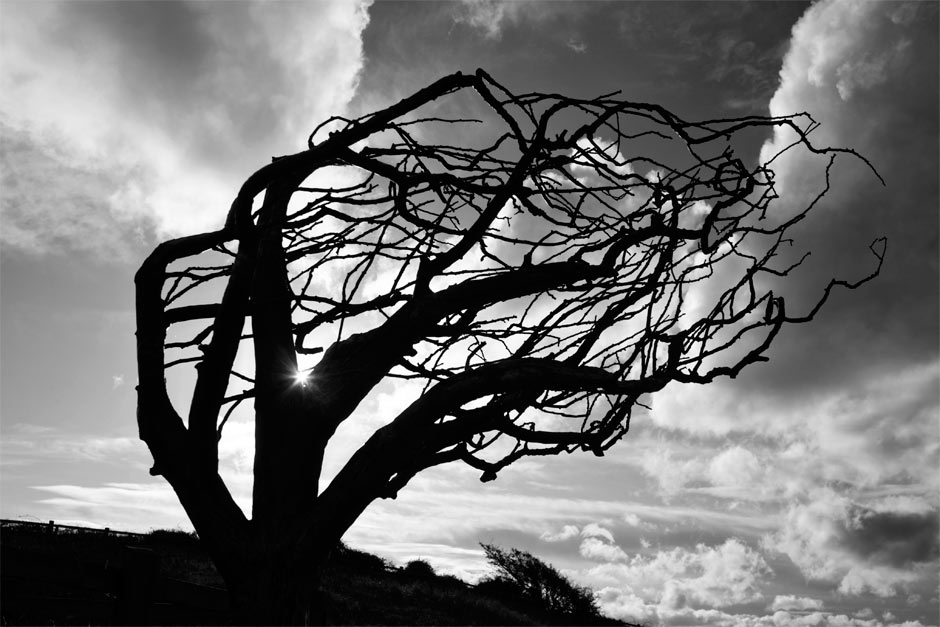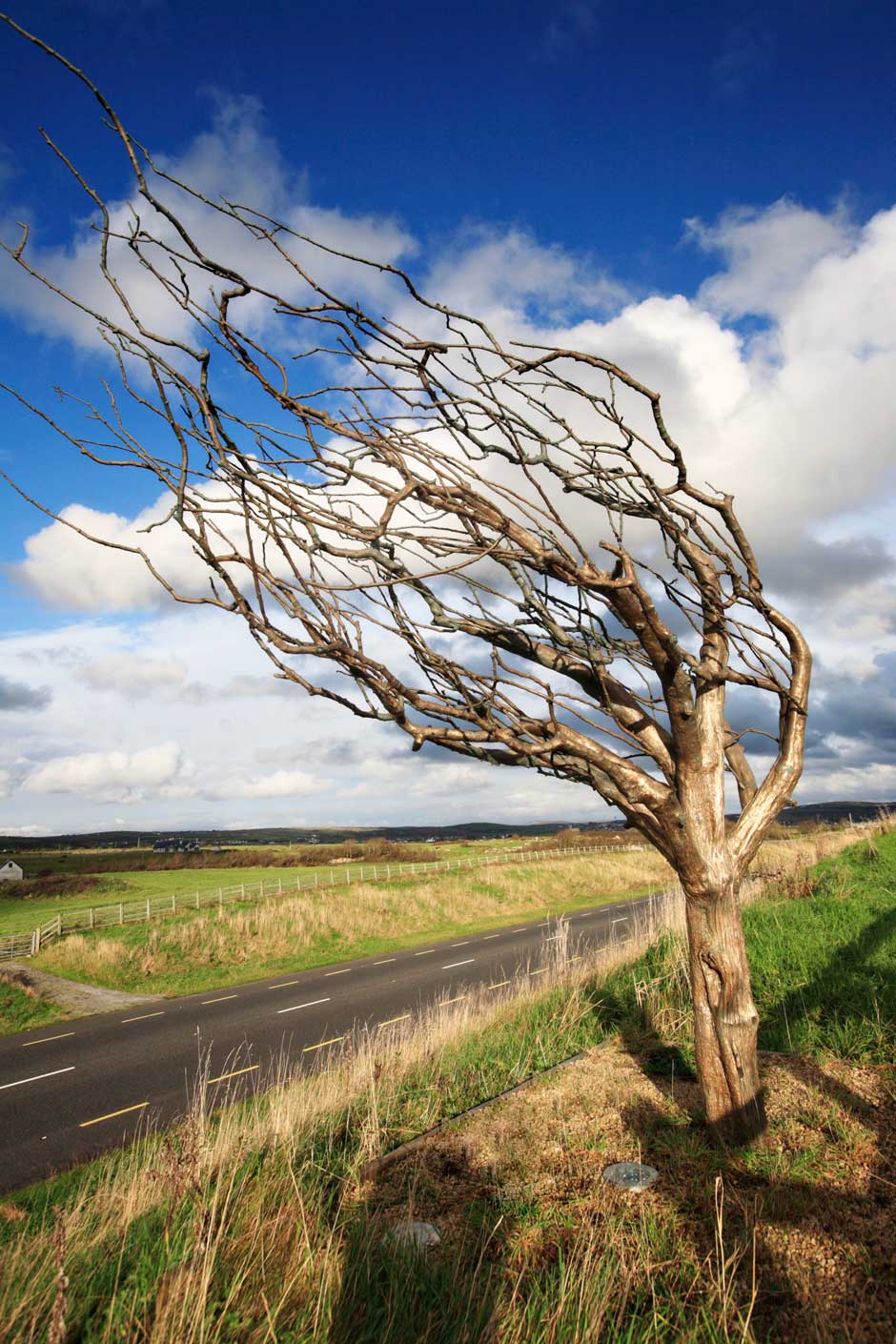 Biography of artist
Elizabeth Caffrey

Born in 1968 and grew up in County Meath. Studied a Diploma in Fine Art Sculpture at the then Sligo Regional Technical College 1987 – 90, going on to complete a B. Des in Ceramics at National College of Art and Design, Dublin 1990 – 93. Set up Studio in the Model Arts Centre in 1994 – 98 and then relocated to Ballinaful, County Sligo where she still continues to work. Caffrey has exhibited widely throughout Ireland since 1990 in events/venues such as the Irish Life Mall, Dublin (1991), Achill Island Symposium (1996), Artsfest Cork (1996), Iontas Dubin, Belfast and Cork (1997), Academy without Walls (Cathy Carmen's Guest 1998), RHA Gallagher Gallery, Dublin, Irish Contemporary Ceramics, Gracefield Arts Centre, Scotland, Limerick City Gallery, Model Arts Centre Sligo and Ulster Museum (2002-2001), Boyle Arts Festival (2001), and Sculpture in Context, Botanic Gardens 2002.
Awarded a Laureateship 'Pepinieres Europeens Pour Jeune Artistes' to work in Angra Do Heroismo, Azores, Portugal (1990). Part-time lecturer in Sculpture and Ceramics at Sligo Institute of Technology since 1993 and has done Visiting Lecturer stints throughout Ireland – Belfast 2000, National College Art & Design 2001, Galway Mayo Institute of Technology 2003 – 04. Is a founding member of Irish Contemporary Ceramics and has been a member of the Visual Arts Committee, Model Arts Centre 1009 – 2005. Has work in private collections in Ireland, France, Bermuda, Portugal, New York and London. Per Cent for Art commissions include Grange Village Sligo 2003-04, Per Cent for Art Commission Sligo Inner Relief Road 2004 – 06.
Sean Campbell

Born and grew up in Belfast. Completing an honours degree at Liverpool University he set out on a journey, which circumnavigated the globe several times. Living and working in Europe, U.S.A., Guatemala, Australia and New Zealand and travelling through Asia, Africa, the South Pacific, Central and Southern America over a 12 year period. This developed an empirical interest in anthropology and the environment, combined with a truly international perspective.
During a break in those travels Sean returned to Ireland and completed a Masters Degree at the University of Ulster and gained valuable experience working for a local family run firm in Belfast in the furniture industry.
Returning to Ireland on a permanent basis in 2002 Sean set about building somewhere to live. Renovating and extending an old cottage in Co. Leitrim using local materials, combined with traditional techniques and contemporary detailing to create an ecological home to the highest standards of contemporary comfort. This has enabled Sean to develop new skills in engineering & design and work with a wide variety of materials including timber, stone, slate, traditional lime renders and washes. In 2003 while still developing his home Sean established Four Masters (Contemporary Art and Design) Ltd. an Art Studio specializing in light. "Technically my speciality lies in Art Glass, however what I'm really working with is light. Glass is an excellent material to manipulate light but so is air and water. I find that when I work with the new materials I discovered while building a home that the negative space, light and shadow take predominant roles in the visual impact of the work."
Educated in Art Glass Techniques in Ireland, Scotland, New Zealand and USA.
Work held by private collectors in New Zealand, USA, Australia, Ireland, Switzerland and England.